Laos 2008 Expedition to Houaphan

Expedition date: 5.-18. January 2008

EuroSpeleo Project FSUE
The expedition continued to explore caves in the Vieng Xai area to achieve an more detailed overview of the extension of cave systems in the region. Additional river caves have been discovered in the mountain hosting the memorial caves. The Tham Houay Long Kou is a beautiful active river throuh cave with a impressive 25 m high passage with cascades and water falls. The longest cave found is Tham Ma Liong with a length of 1.5 km. It has three overlaying interconnected fossil levels and an underlying active river passage. The area of Ban Hang Long and Napoung was intensily searched for more water caves after the discoveries of the several km long river caves Nam Long and Nam. Surprisingly only upper fossil caves have been found that were used during the war as regional head quarters. The area to the North along the Nam Keng was checked and several small caves found. The lime stone disappears after 10 km from the road junction. The road to the Vietnam border offers a higher potential. Ban Navit an half hour from Vieng Xai revealed several upper fossil caves and lower small river caves.
The first time hydro geological investigation were done. Water samples have been collected and parameters as temperature, pH, hardness and conductivity measured. Data loggers have been placed for long term data collection.
The expedition was accompanied by an film team from ARTE. An 60 minute documentary will be screened in spring focusing on the discovery of new caves in conjunction to the war history of the beautiful Karst tower area.
Total 36 caves have been visited and 6.5 km passages surveyed!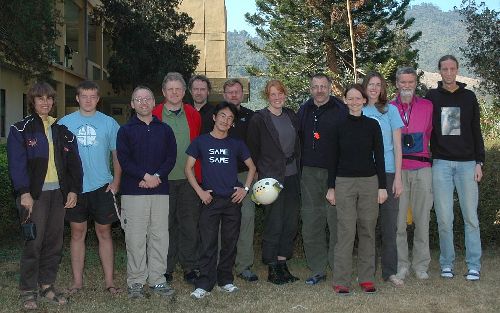 The Team 2008
Please check also the following information on this exciting area rich of history: